SALMON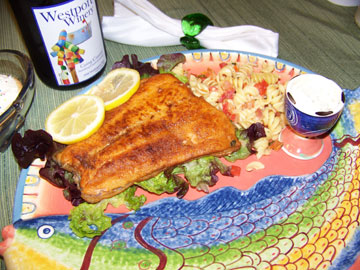 Pan fry
Coat and fry as you would the white fish in olive oil. Serve with lemon and tartar sauce. Paired with Going Coastal Sparkling Wine.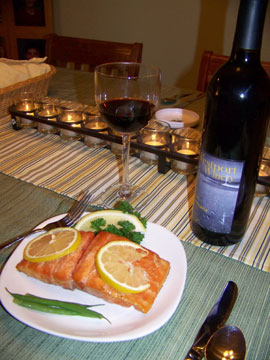 Barbeque
There are many methods for BBQ - from marinades to cedar planks to rubs that are excellent on charcoal, gas, and pellet grills. I use a Traeger pellet grill, and Tom Douglas' Salmon Rub with Love. Start fish side down, and then flip over. When finished, you should be able to slide your spatula between the skin and the fish, leaving the skin on the grill to be discarded.
The cedar plank is great too, but just be sure to soak the plank in water for several hours, and stand by to put out a fire. Enjoy this fish with Pinot Noirvana.

Smoked Salmon
I like to cut the filets into strips first. I prefer 1 part of kosher salt to 3 parts of brown sugar, and will mix these together in a bowl. As the salmon probably has the skin on it, there is no need to put some in the bottom of the pan. I completely cover the fish with the salt/sugar mix for 2 hours; perhaps and extra 15 minutes if you have a large fish. Then rinse completely, and add some brown sugar to the fish, and let it sit overnight with just the sugar on it in a pan or even gallon zip lock bags. When it's smoke time, pat the fish dry. I like to sprinkle Cajun and lemon-pepper on it at this point. If you like garlic, chop some very finely and add a dab to the fish. Into the smoker it goes.
I find that salmon needs more time in the smoker that tuna. My last batch was in a cold smoke for an excess of 12 hours. It was a large fish, but came out great. Again, personal taste, wood for smoking, the smoker itself and the outdoor temperature are all factors. Play with it and enjoy!!!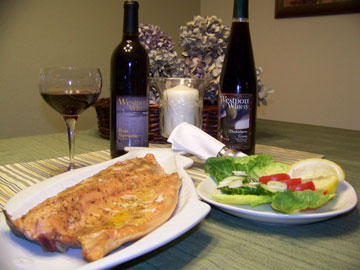 Kathy's Grilled and Chilled Salmon
Mix 1 package Good Seasons Italian salad dressing dry mix with 2 T olive oil and 2 T lemon juice. Drizzle on salmon, covering completely. Grill on barbeque until just not quite done, and then transfer to cookie sheet, and place in refrigerator. Serve chilled! It is fabulous!








ALBACORE TUNA
This is Kevin's favorite fish... It lends itself splendidly to the barbeque as well as a hot frying pan. All tunas are WAY better when served medium to medium rare. Albacore does make great sushi and sashimi too. Brandon, his son-in-law, likes his REALLY rare.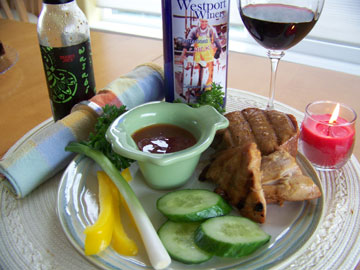 Barbeque
Marinate either the loins, or steaks (about 1.5" thick). A great basic marinade is equal parts of soy sauce and olive oil. A sesame salad dressing made by "Feast from the East" really makes the marinade nice when an equal part is added to the basic marinade. Other variations include substituting Yoshida Teriyaki for Soy Sauce, or add Jamaican jerk or curry. And, if you're a garlic fan, add some crushed garlic to the marinade.
Marinate tuna for an hour or so, and then to the grill. DO NOT OVERCOOK – only about 6-8 minutes per side, but this time is approximate, and depends on the temperature of YOUR grill! Serve with Kevin's favorite – Charterboat Chick's!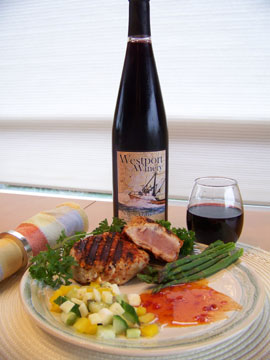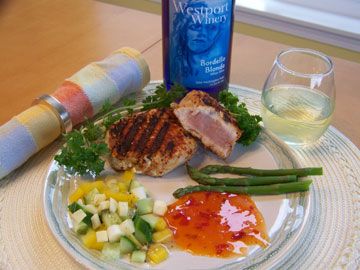 Frying Pan/Seared
Coat a loin (or steaks) with olive oil, or canola for no smoke, and then coat generously with spices that you like, or one of the several rubs that are made for tuna. In a very hot pan, sear for a short time on all sides. Once again, DO NOT OVERCOOK. Serve immediately with one of the sauces below and Wesport Wine's Bordello Blonde. As they say at the winery – this wine "goes with anything or anybody".
Or for a change, pair a chilled red – Night Watch!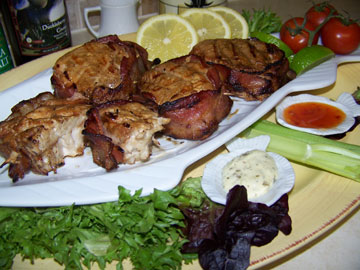 Bacon-wrapped Albacore
Bacon wrapped tuna mignons are excellent - this is Karyl's favorite. Cut tuna loins into 1" – 1 ½"steaks, marinate, wrap with bacon, holding it on with toothpicks, and then onto the BBQ. (I use thin sliced bacon and cook it halfway before wrapping the steaks).

When done, the bacon should be thoroughly cooked, but the tuna "nice and pink". This is a great "having company over" dinner for sure! Watch out for the toothpicks. Try this with Westport Winery's best seller – Duckleberry Grunt.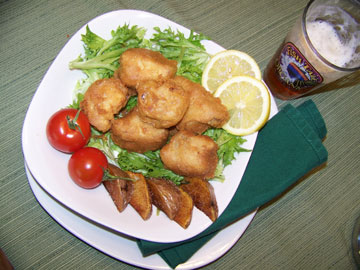 Deep Fried
Deep fried albacore using the same beer-batter as for the white fish is awesome, and definitely worth a try. The batter prevents the tuna from drying out. Most say it tastes "just like chicken" - we prefer to think of chicken as "Tuna of the Land." Tastes great with Olympia's Fish Tale Ale!








My new favorite seared albacore-sashimi!!!

I cut the loan in half, pat it dry, and then coat it thoroughly with Tony Chachere's Cajun/Creole seasoning. I mean really cover it!!
Then, heat a pan with sesame oil to the searing point. Add the fish, and sear for 30 seconds to a minute each side (there are 3 sides to the loin). Remove from heat, and then chill the fish. When cool, slice as thinly as you can—a real challenge—and then serve on a plate with wasabi-soy on the side. It is AWESOME. The texture is more tender than ahi, but the flavor may be superior.


Smoked Albacore
Cut a loin lengthwise into planks. I usually get three planks out of a large loin. Then, mix equal parts of kosher salt and brown sugar in a bowl. Put some of the salt/sugar mix down, law the tuna on it, and then add more to completely cover. Let it sit for 20 minutes—I'm not kidding!! 25 might make it too salty! Rinse completely, pat dry, and put in smoker. I sometimes might shake a dab of Cajun seasoning on it. The smoke time is the variable. It depends on your smoker, the outside temperature, the type of wood, and your taste. I usually cold smoke it for 6-8 hours. Delicious!!
Favorite Sauces to Serve with Tuna
· Sweet Thai Chili Sauce
· Wasabi and Soy sauce mixed together
· Trader Joe's Wasabi-Sesame Drizzle (Oh My!)
· Tartar sauce on the deep fried.
And then of course the standard canned tuna* for salads and sandwiches. Try drizzling balsamic vinegar over the tuna mixed with mayo or salad dressing (Trader Joe's wasabi mayo is great here if you have a need for HEAT) and add pickles, lettuce, tomatoes………….. You get the idea; the sky is the limit, especially on toasted sourdough bread!
*Home canned tuna – we dry pack with ¼ t salt (can add garlic clove) for 10 oz. jar. Pressure cook at 15 pounds for 80 minutes. One pound whole tuna equals one jar of canned tuna.

If anyone has a great fish recipe that they would like to share – e-mail it to kvasereno@comcast.net and we will add to the site after some taste testing ourselves.