Kevin and Karyl Vasereno welcome you to their independent, family-owned and operated deep-sea charter fishing service in Westport, Washington. Karyl has experience handling the phones having worked in several charter offices over the years. Captain Kevin will take it from there continuing to provide top quality fishing trips having 50 years experience working on charter fishing boats out of Westport, WA. He began his career in 1967, deckhanding on the White Cap with Captain Don Fidler. Kevin received his Master's License from the United States Coast Guard in 1975 at the age of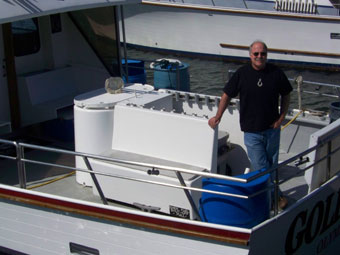 19, and began his career as Skipper. His philosophy of charter fishing is evident in his two goals for each fishing trip. The first goal is the most important-to have a
great time
going fishing! The second goal is to have a
fruitful outing
, returning with the best catch possible. Kevin has worked diligently throughout the years to ensure that both goals come together on each and every trip.
The
GOLD RUSH
, one of Kevin's passions, is a 43' Delta Marine hull finished by Knapp Boat in Tacoma. Kevin and Karyl Vasereno have owned the
GOLD RUSH
since 1989. She is an absolutely awesome vessel, extremely well suited for her job of safely, quickly, and productively carrying passengers on the ocean.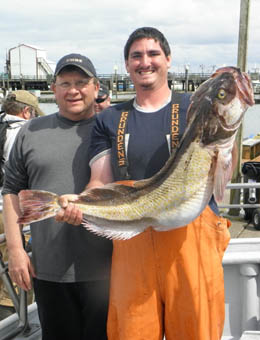 She is powered by twin non-smoking and earth-friendly John Deere diesels. These quiet and efficient engines give the
GOLD RUSH
a speedy cruise, allowing for more time fishing and less time traveling.
The
GOLD RUSH
has state-of-the-art fish-finding and communication electronics, the latest navigational computer and software, a sea-temp gauge, and a newly interfaced autopilot. An automatic identification system, AIS, displays vessel traffic data on the plotters for a safe voyage. Large LED lights have been added for safe night travel, and slightly higher stainless railing provides additional safety, comfort, and support, while fishing. The cabin is heated and there is a microwave for your convenience. The
GOLD RUSH
has an awesome live bait tank for anchovies and a slush-hold for storing tuna. All these features make her a fabulous fishing machine!
Colin Vasereno, also a USCG licensed captain, is back and in charge of the deck. Ambitious and jovial, Colin will keep you fishing and smiling. Kevin and Colin will work to ensure perfection for your outing, and are looking forward to welcoming you aboard..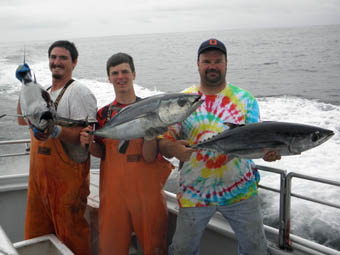 Captains Kevin and Colin of the
GOLD RUSH
do all of the available fisheries of the Washington Coast. Rockfish and lingcod fishing starts mid-March, halibut in May, salmon in June, and albacore tuna starts end of July. Kevin is available all spring and fall, retired after 33 years of teaching. He concentrates on fishing and spending time with Karyl!
So whether it is anchoring for rockfish and lingcod, hovering for halibut, drifting for salmon, or sliding into a foamer patch of albacore, it will be "Game-on" on the
GOLD RUSH
.
Give us a try - you will be glad you did - hope to "sea ya" soon!